Mystic Turkey (Anatolian) Round Trip 1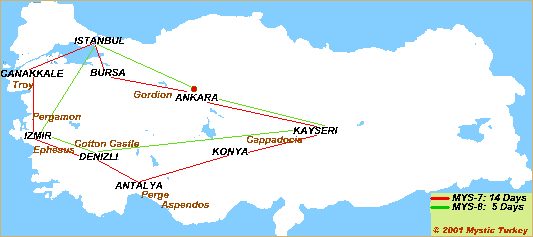 MYS-8:ISTANBUL-ANKARA-CAPPADOCIA-COTTON CASTLE-APHRODISIAS-EPHESUS-ISTANBUL (5 Days)
Day 1: ISTANBUL-ANKARA-CAPPADOCIA
Fly to Ankara and visit Anatolian Civilisation Museum & Mousaleum of ATATURK,the founder of modern Turkish Republic.Then drive to Cappadocia. Accommodations in Urgup.

Day 2: CAPPADOCIA
Visit all Cappadocia(ancient Katpatukya,the name given by Persians,meaning ''the land of beautiful horses'' as beautiful horses were bred here).See the amazing churches carved into tuffs in GOREME Open-Air Museum,such as Saint Basil's Church,Apple Church,Saint Barbara's Church,The Serpent Church and more... Then visit Pasabag Valley where you can watch the formation of fairy chimneys.See the ancient village of ZELVE carved into the rocks in two natural valleys.At the end of the day visit AVANOS,the town best known for the beautiful pottery made with red mud which is taken from the river bed,and also for the production of wine. Accommodations in Urgup.

Day 3: CAPPADOCIA-KONYA-PAMUKKALE (COTTON CASTLE)
Early in the morning depart for Konya,the city of Whirling Dervishes.See the Mevlana Museum.Then arrive to Pamukkale. Accommodations in Pamukkale.

Day 4: PAMUKKALE-APHRODISIAS-EPHESUS
Visit the ancient city of Hierapolis which was established on the white cascades.See the unique white terraces,overhanging surfaces formed by running warm-spring water.Arrive to one of the best preserved ancient city of APHRODISIAS,the city which was dedicated to the goddess of love APHRODITE.Arrival to Ephesus and accommodate in Kusadasi.

Day 5: EPHESUS-IZMIR-ISTANBUL
Visit the highlight of Asia Minor,the largest ancient Roman city in Asia Minor with its well-preserved Celsus Library,Temple of Domitian & Hadrian,Fountain of Trajan,impressive marble roads and largest Roman theater and more...Visit the Temple of Artemis,one of the Seven Wonders of Ancient World.Then drive to Izmir Airport to take your flight to Istanbul. Accommodations in Istanbul.
---
MYS-9:EPHESUS-VIRGIN MARY (Full Day)
Fly to Izmir. Visit Ephesus ancient city and the House of Virgin Mary. In late afternoon, fly back to Istanbul.
---
MYS-10:GREEN BURSA (Full Day)
The first capital of The Ottoman Empire.Departure by ferryboat to YALOVA then drive to Bursa to visit the Grand Mosque, the Green Mosque and the Green Mausoleum famous with their Iznik tiles. Lunch will be served in a special 'Iskender Kebap' restaurant.Also see the Silk Cacoon Han.
Contact us for more information.
All Rights Reserved,2007 Mystic Turkey